SUMMER CAMP DATES
2 Week Camp
CAMP FULL- WAITING LIST INFORMATION BELOW
Monday July 15 to Friday July 26, 2019  
The Camp Variety Show is on July 26th at 7:00 pm at the North Grenville Community Church.
Disney's Mulan jr. – 4 Week Camp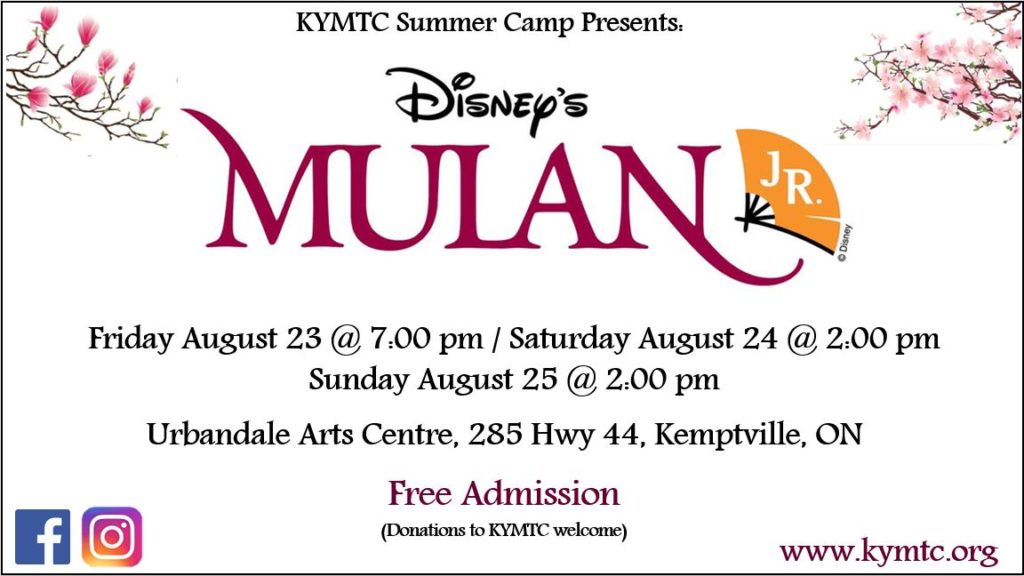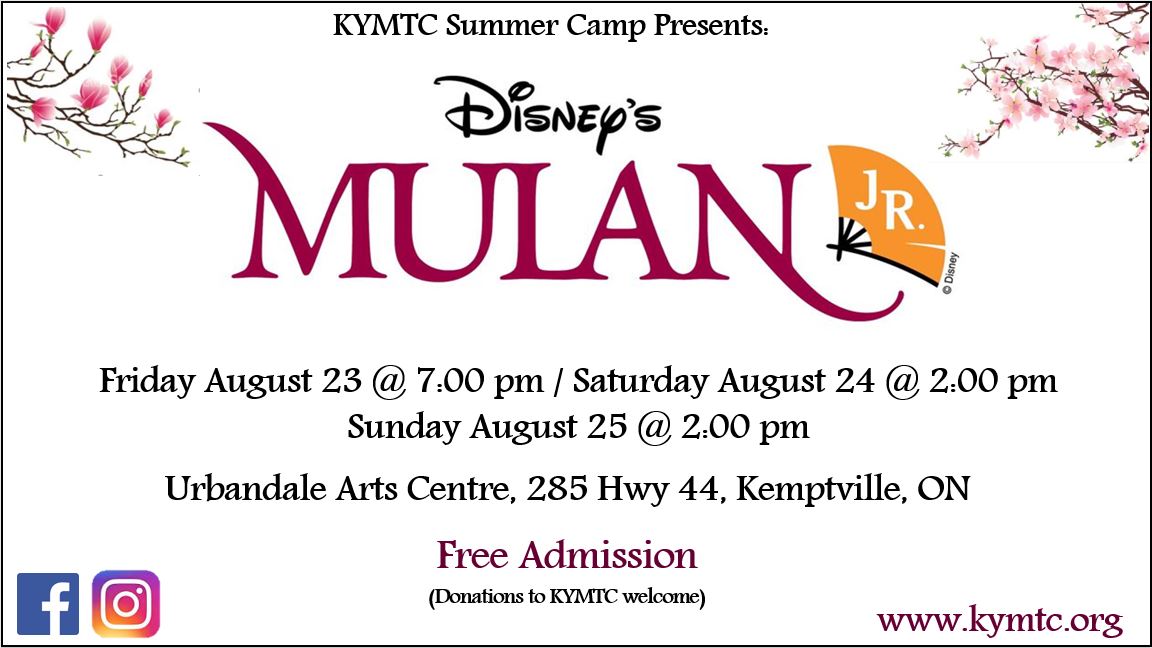 CAMP FULL- WAITING LIST INFORMATION BELOW
Monday July 29 to Friday August 23, 2018 (no Camp on August 5 due to Civic Holiday)
Performances of Mulan Jr. take place at the Urbandale Arts Centre on Friday August 23th at 7:00 pm, Saturday August 24th at 2:00 pm, and Sunday August 25th at 2:00 pm. Admission is free – donations to KYMTC are welcome.
REGISTERING FOR CAMP
Registration for KYMTC Summer Camps 2019 begins on February 1, 2019.
Early Registration Discount
KYMTC offers a $50 discount if you register before April 30, 2019.
Please note that Camper spaces are assigned on a "first come, first served" basis. Registration is not considered complete until the registration form and payment have been received by KYMTC. We do not reserve spots. If you have any questions about summer camp registration, please contact the KYMTC Summer Camp by email: klace049@gmail.com
WAITING LIST- 2 week and mulan jr 4 week camp 
Both Summer Camps are now full. If you want to be added to the waiting list, submit an application  (it's identified as a WAITING LIST application when submitted). KYMTC will contact you to confirm that you are on the waiting list. Please do not send a camp fee payment cheque if you are on the waiting list. If a spot opens up, KYMTC will contact you and arrange for fee payment.
HOW TO Register for Camp 
Submit an online application form 
Click on this registration form link to submit your camper application to KYMTC via Jotform.
Contact the Camp Director at klace049@gmail.com to arrange for the mailing/dropping off of your cheque.
CAMP FEES – Pay by cheque
2 Week Camp 
Early Registration (before April 30):  $375
CAMP FULL- WAITING LIST INFORMATION ABOVE
After April 30: $400 
Disney's Mulan Jr. – 4 Week Camp
CAMP FULL- WAITING LIST INFORMATION ABOVE
Early Registration (before April 30):  $750
After April 30: $800