The Kemptville Youth Musical Theatre Company (KYMTC) is a community based non-profit organization that relies on a team of dedicated volunteers who donate their time and skills to make sure that we have a successful show.
KYMTC is extremely grateful to everyone who volunteers their time and talent to help out the organization. Some of the benefits of volunteering at KYMTC include being a part of a caring community of great people and gaining insight and experience into the design and delivery of a vibrant, successful musical theatre company production.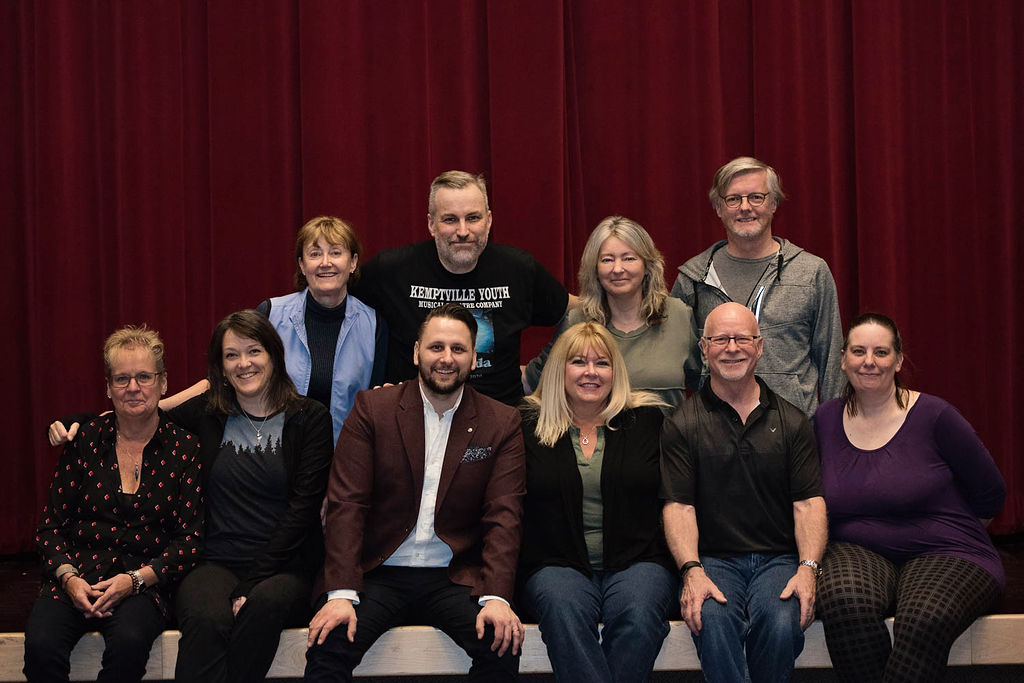 Matilda Production Team 2023
Production Team
The following positions are required for the successful staging of a musical production by KYMTC. Getting involved in the production of a musical theatre show is a very rewarding experience. A good production team is made up of a diverse group of dedicated volunteers who bring a wide range of skills and knowledge to the company. Previous experience is an asset, but not required for all positions. Check out the Current Opportunities below to see if KYMTC is currently looking for any positions to be filled.
Artistic Director
Producer
Assistant Director
Musical Director
Set Designer
Choreographer
Sound Director
Lighting Director
Backstage Manager
Costume Designer
Front of House Manager

Ticket Takers/Concession Stand Volunteers*
*These positions are normally filled by parents/guardians of current cast members. Around the time the tech runs begin, KYMTC will contact parents/guardians with further information.
Community Involvement Activity Hours for Crew Members
Youth who are accepted as volunteers with the KYMTC Production Team (e.g. Back Stage Crew, Lighting Crew) can count these volunteer hours towards their grade 12 diploma requirements.
KYMTC VOLUNTEER CODE OF CONDUCT
KYMTC wants everyone to have a great experience during this production. To help provide guidance on what is expected of everyone involved in the show, all cast members and volunteers are expected to read, understand, and respect the KYMTC Volunteer Code of Conduct.
Current Opportunities
Thank you for your interest in KYMTC. There are no volunteer opportunities at this time.